Bob Cason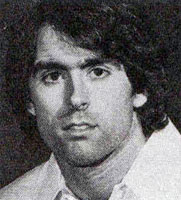 Seattle Cavaliers - Quarterback
1971-1980
Nine quality years as the signal caller of the legendary Seattle Cavaliers, Cason was the epitome of the semi pro player. Loved the game, loved the team, and made the most of his time playing the game. As they say, semi pro football is what each individual player makes of it for himself. Bob Cason made it a launching point for tryouts at the professional level while performing at the top of his game and enjoying every minute of it for the Cavaliers. Annually at the top of the stats lists and a perennial All-Star selection all nine seasons.
From 1967-1970 Bob was a Puget Sound Logger where he amassed 3,448 yards of total offense and passed for 2,794 yards. He held school marks in 1970 of 1,270 total yards, 1,050 passing, completed 20 passes in a game against Lewis & Clark and 86 for the season. Shared the single game passing TD record of 4. A Cleveland High grad, Cason had tryouts in 1972 with the Washington Redskins and in 1976 with the Seattle Seahawks where they tried to convert him to safety.
In His Own Words:

"My experience with the Cavaliers was one of the most enjoyable football experiences I have had, probably because it lasted for 9 years. We practiced 2 days a week without pads, no film study, no yelling coaches, really more of a social gathering than anything else, but come Saturday we were ready to play.
I played under Elmo Hudgens, probably the most influential force in Semi Pro Football this area has ever scene, he was a very unique individual, a giant of a man but as gentle as can be. He was old school (single wing old school) and I told him up front that I would not be able to embrace that system if I were to join the team and he didn't hesitate to give me a free rein with the offense. During my nine years we had a mixture of college players sprinkled in with high school guys and then some guys who thought they could play and some could. The camaraderie was great, and the best part was we just played and had fun, no pressure to win, no depth charts to agonize over, just grown men being allowed to go out and enjoy the game and believe me we did.
Elmo's personality was a little quirky and that quirkiness led us into some odd scheduling, we played two games on a weekend many times, we even played two games in one day and one week we played 3 games. But we loved it, we were playing, what could be better. We played a lot of Junior College and Canadian College teams and those games were competitive most of the time, we needed those games because our competition from other Semi Pro teams was non existent, we rolled thru all of them.
That did not change until the Pierce County Bengals joined the league in '74-'75, somewhere in there I think. At that time I still had aspirations of playing at a higher level and tryouts with the Redskins, B C Lions and a team in he World Football League, kept those dreams alive. I was fortunate enough to sign a free agent contract with the Redskins, I think in '74, the B C Lions were going to bring me in also but I went with 'Skins. I was released late in their camp but as a result of that was signed as a free agent the next year with the Seahawks, years tend to blur but that must have been in '75. That didn't result in a contract either, but the memory of those days stays with me.
I was fortunate enough to be coached by then QB coach at Washington Ted Marchibroda who went on to become the head coach of Baltimore and Indianapolis a great guy and a great coach. George Allen was the head coach, a Hall of Famer who never spoke above a whisper but you heard every word. My time with the Seahawks, although brief, brought me in touch with Jim Zorn, a quality, quality guy. We speak rarely since he left Seattle but I consider him a friend. I guess my point is that without Semi Pro football I would not have had these experiences and acquaintances in my life, Semi Pro football was a positive and enriching part of my life and I cherish my days playing and the memories. I think you will not find a QB who played as many productive years as I did in Semi Pro, or as many years period. Stats were not very organized back then but suffice it to say my name would have shown up at the top of every category for QB's. I possessed a strong arm, I was fast, quick and elusive best comparison in my era would be Fran Tarkenton."
- Source: Email Correspondence with GNFA's Mark Meadows, March 11, 2010.