Dick Barnes

b 6/29/1921 - d 9/17/1992
Seattle Cavaliers/Seattle Ramblers/Burien Flyers/Tacoma Tyees
1955 - 1989
Place kicker, Center
Dick Barnes, playing well into his late 60's was a member of the Northwest football for over three decades. His football career began in Burlington, IA while in junior high (1933), later at Burlington Junior College, and the 6'1" 212 lb former offensive lineman suited up for his passion for the next 50+ years, interrupted only by war and one game he had to miss to attend his 50-year class reunion. Prior to joining the Cavaliers he was a Seattle Rambler from 1955-56 but work caused him to miss too many practices and he was cut from the team. Barnes, who had turned down offers by NFL teams (Chicago Cardinals, Baltimore Colts, Pittsburg Steelers) in the 1950's to remain an active duty fighter pilot, joined the Seattle Cavaliers in 1957. He played for Red Grange at the University of Illinois for two seasons, and earned a degree from Colorado Mines in 1955 where he returned to college and football after Korea. In 1972 his kicking helped the Cavaliers to an 11-1 season (10-0 in NIFL) and the league championship. He booted 2 points in a 20-19 win by the Cavaliers over the NIFL All-Stars to conclude the season.
Outside of football, Barnes played rugby for the Seattle Old Guard for 20 years and was elected to the Washington House of Representatives seven times finally retiring in 1989. He was vice-president of the Burien Bear Cats "Little League" football team where his sons played. One son eventually teamed with his dad on the Seattle Cavaliers where the two had to be physcially separated by teammates at times during practice.
He met his wife Sylvia while in college at the University of Illinois and were married in 1943 while stationed at Goodfellow Air Force Base in Texas. Dick was an active duty pilot for 12 years during WWII, the Korean War, Vietnam and the Cuban Missle Crisis. He also served as a fighter, bomber and transport pilot for twenty-one years in the Air Force reserves achieving the rank of Colonel. During that time the family grew to three children (Roy, Richard and Cynthia) Dick retired from football when the Cavaliers franchise folded and near the time he was diagnosed with cancer. During a remission in April 1992, Dick returned to playing rugby. He died five months later.
Currently the GNFA record holder for oldest player and most years playing. (68 and 35 respectively)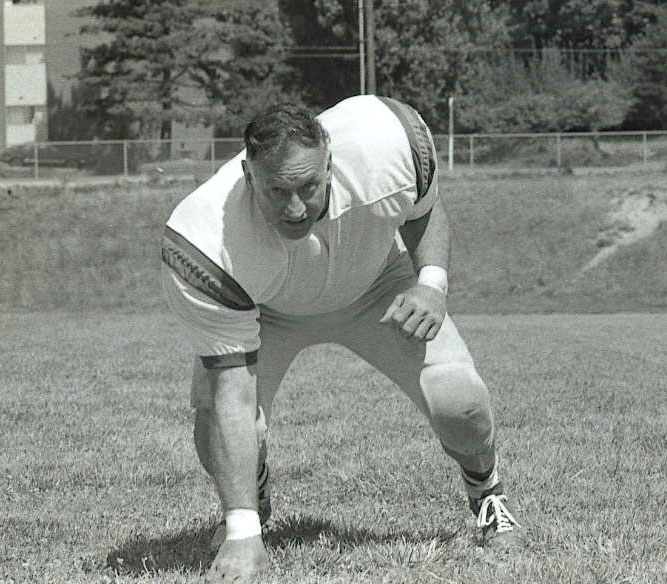 Barnes at age 56 (Photo Courtesy of Tim Robinson)
Tim Robinson: "He was very good natured. He never complained. He just loved to get the chance to contribute. He kicked a lot of extra points for us and a few field goals."