Austin W. Seth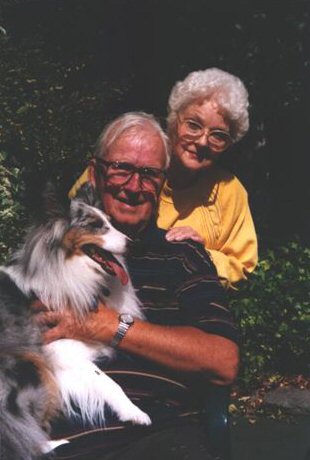 Austin Seth, wife Charlotte and Ollie the Collie
b. 12/26/1915 Marshall Co. SD, d. 1/3/2006 Seattle, WA
Team Photographer - Seattle Ramblers
1948-1962
Rarely would one ever see a photographer mentioned in a football Hall of Fame or be referred to as a Legend, but Austin Seth was a rarity in his own rite.
Born and raised in Seattle where he played 3 years of varsity of baseball for Franklin High, Austin went on to star for 3 more seasons at the University of Washington holding down 1st base.
In 1945, Austin and Don Sprinkle first worked together as a team for the Seattle Police Department as part of the Homicide and Robbery Squad in the Detective Division. They continued with the division until 1954 when their assignments changed. From that time in 1945 Austin began taking sports photographs for Sprinkle's Queen Anne Boys' Club football team until 1948 when the Rainier Beach Ramblers were formed by Sprinkle and he photographed the team until Don's death in 1962.
For 18 years Seth roamed the sidelines for Don Sprinkle's teams taking pre-season team shots, individual shots and home game action photos. It is Seth's dedication as a photographer that recorded much of the Ramblers history, as well as some of the only known photographs of rival coaches, players, fans and stadiums during the 1950's semi pro era in the northwest. Many of his photographs were used in Don Ridge's "Take A Lap", the book chronicling the Seattle Ramblers and Don Sprinkle.
He is also well known as the "photo finish photographer" at the Long Acres Race Track.
Memories... (excerpt from "Take A Lap"):
At a Queen Anne Boys' Club game played on old Jefferson Field, Nils (Seth's son) was with me and he was about 5 years old. During the game there was an end run and Nils ended up under the pile. He was unconscious. I was very frightened, but Nils recovered with ill effects.
In the late 1940's, Jack Seth, no relation to Austin, and Dick Sprinkle, Don's brother, were football players at the University of Washington. When Don and I were on duty checking night clubs during the football season we were often asked this question: "How can you go to school, play football, and be detectives all night? We both responded, "It isn't easy!"
One weekend afternoon when Don and I were on duty at the police department, Lowell Wardien (Rambler RB) and Bob Hughes (Rambler FB) came down to visit. Lowell and Bob came across some old leg irons we had as souvenirs. I forgot who did it but one locked them on the other and we had no key! It took the remainder of the afternoon plus several stops to chisel and hacksaw those leg irons off...!!!!
Austin married Charlotte Oelschlagel and the had two boys, Nils and Erik. Both would follow their father into photography careers. Erik even took photographs of the Ramblers while in high school.
Seth and Sprinkle served as personal security officers for General Douglas MacArthur during a 1951 visit to Seattle.