Honors
Justin Nixon, RB 2006 RMFL Offensive MVP
Justin Nixon, RB 2007 RMFL Offensive MVP
Jamie Jones, LB 2007 RMFL Defensive MVP
Joe Murawa, 2007 RMFL Coach of the Year
All-League
Justin Nixon, RB (2006 AA 1st, 2007 AA 1st, 2008 AAA 1st)
Brian Gollnick, OL (2006 AA 1st, 2007 AA 1st)
Paul Tryon, DL (2006 AA 1st, 2007 AA 2nd)
Jamie Jones, LB (2006 AA 1st, 2007 AA 1st, 2008 AAA 1st)
Jason Shumacher, OL (2006 AA 2nd, 2007 AA 1st)
Brian Buckreus, DL (2006 AA 2nd, 2007 AA 1st, 2008 AAA 1st)
Buckie Brawley, QB (2006 AA Hon Men, 2007 AA Hon Men)
Chris Jones, LB (2006 AA Hon Men, 2007 AA 2nd)
Nick Bain, CB (2006 AA Hon Men)
Eric Peterson, PK (2006 AA Hon Men, 2007 AA 1st, 2008 AAA Hon Men)
Kris Rausch, WR (2006 AA Hon Men)
Kurt Rausch, LB (2006 AA Hon Men, 2007 AA 1st, 2008 AAA 3rd)
Kyle Rausch, DB (2007 AA 2nd)
Blake Cranmore, OL (2007 AA Hon Men)
Tyler Jolley, RB (2007 AA Hon Men)
Christian Brown, DB (2007 AA Hon Men, 2008 AAA Hon Men)
Patrick Evers, LB (2007 AA Hon Men)
TJ Ward, DB (2007 AA Hon Men)
Brian Smith, OL (2008 AAA 3rd)

All-America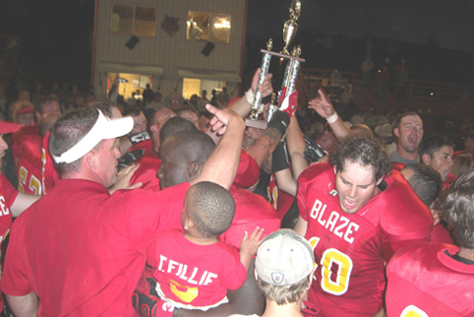 In 2006, the Bitterroot Blaze were formed in Hamilton, Montana by Buckie Brawley and Bryan Hellyer. Many of the players had broken away from the Missoula Raptors, 2005 champions of the Montana division of the RMFL. Making the "AA" playoffs in their first season, running back Justin Nixon earned offensive player of the year.
The Blaze in 2007, asserted themselves at the top of the AA power structure, not only going undefeated, wire-to-wire to capture the AA title in 2007, but, setting a number of records in points allowed, defense along the way, while Justin Nixon rushed to another rushing title and a AA MVP award. The Blaze would ultimately defeat rival, Missoula for the third time in the season by a score of 15-0 to win the title.
Moving up to the "AAA" division in 2008 opened Bitterroots eyes to the top competition coming out of Utah as they struggled to a 3-5 finish, missing the playoffs and losing the final match to Montana rival Missoula.