Honors
Zac Jockumsen, LB 2003 RMFL Defensive MVP
Zac Jockumsen, LB 2004 RMFL Defensive MVP
Ernesto Ramos, RB 2004 RMFL MVP
All-League
Chance Leeds, WR (2001 RMFL 1st; 2002 1st)
Jim Slocum, PK (2001 RMFL 1st)
Aaron Crawford, DB (2001 RMFL 1st)
Tom Bicandi, RB (2001 RMFL 2nd)
Rocky Lopez, RB (2001 RMFL 2nd)
Jamie Vincent, WR (2001 RMFL 2nd)
Kevin Busick, OL (2001 RMFL 2nd)
Larry Haney, OL (2001 RMFL 2nd)
Conan Perkins, DL (2001 RMFL 2nd)
Patrick Avent, LB (2001 RMFL 2nd)
Toby Redman, DB (2001 RMFL 2nd)
Donald Nelson, DB (2001 RMFL 2nd; 2002 1st)
Joe Critchfield, OL (2006 RMFL 1st)
Eric Harbison, PK (2006 RMFL 1st; 2004 2nd)
Zac Jockumsen, LB (2006 RMFL 1st; 2004 1st; 2003 1st)
Dane Knickrehm, DB (2006 RMFL 1st; 2005 HM; 2004 2nd; 2003 2nd)
Todd Rietman, OL (2006 RMFL 2nd; 2005 2nd; 2004 HM; 2003 2nd; 2002 1st)
Kevin Bekker, DB (2006 RMFL 2nd)
Jeremy Prussia, WR (2006 RMFL HM)
Dan Maguira, RB (2006 RMFL HM)
Ryan Weaver, DB (2006 RMFL HM; 2004 3rd)
Scott Schwab, DB (2006 RMFL HM)
Bob Mares, LB (2006 RMFL HM; 2005 HM)
Jeremy Lee, DE (2006 RMFL HM)
Shawn Mares, TE (2005 RMFL 2nd; 2004 1st)
Sean Thompson, DB (2005 RMFL 2nd)
Aaron Blakely, RB (2005 RMFL 3rd)
Reashard Howard, DL (2005 RMFL 3rd)
Maurice Sapp, LB (2005 RMFL HM)
Tony McPherson, WR (2005 RMFL HM)
Sean McBride, OL (2005 RMFL HM)
Jose Jara, OL (2005 RMFL HM)
Sheridan Hodson, WR (2005 RMFL HM; 2004 HM)
Austin Callison, DL (2005 RMFL HM; 2003 1st)
KC McKenzie, DL (2005 RMFL HM; 2004 2nd)
Ernesto Ramos, RB (2004 RMFL 1st)
Terance King, WR (2004 RMFL HM) LB (2002 RMFL 2nd)
Mike Kierpiec, OL (2004 RMFL HM)
Darnell Hasson, RB (2004 RMFL HM)
Curt Haldeman, DL (2003 RMFL 1st)
Cherone Schneider, RB (2003 RMFL HM)
Royce Potteiger, TE (2003 RMFL HM)
Anthony Miller, WR (2003 RMFL HM)
Matthew Tefs, PK (2003 RMFL HM)
Henry Ward, DB (2003 RMFL HM)
Bill Dennison, DE (2002 RMFL 1st)
Denver Leeds, WR (2002 RMFL 2nd)
Casey Wittenborn, DB (2002 RMFL 2nd)

All-America
Zac Jockumsen, LB (2003 AFA HM)
Zac Jockumsen, LB (2004 MLFN 2nd; 2006 1st)
Zac Jockumsen, LB (2004 NFE HM)
Todd Rietmann, OL (2004 MLFN HM)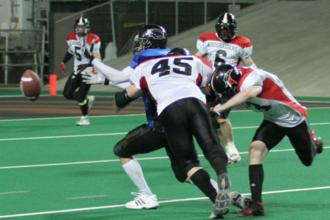 Roughrider defenders close in.
With the merger of the Treasure Valley Cowboys and the Boise Cardinals, the Roughriders became immediate impact players on the RMFL scene earning a spot in the title game in 2001.
2002 and 2003 saw a repeat of the previous Boise-area declines when the Panthers started up and competed against the Roughriders, but after the Panthers folded up the 'Riders were again playoff bound. 18-5 over the 2004 and 2005 seasons, the power shift in the RMFL after a merger with the Utah Football League, kept Boise from reaching the Championships as Salt Lake area teams began to dominate. The 2006 season ended as it had started with losses to the Cache Valley Bears now competing with the Rhino-Raiders for RMFL supremacy.
The Roughriders found a new sponsor in the Duke Speed Academy and a new name was born for the Roughriders...Boise Speed.