Mel McCain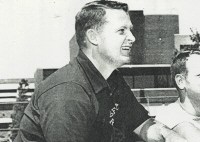 Head Coach
Edmonds Warriors; Seattle Ramblers/Rangers
1962-1968
-----
Quarterback
Seattle Ramblers
1960-1961
Mel McCain put together one of the most dominant teams to play in the Northwest during the mid-60's going unbeaten through 33 consecutive games on both US and Canadian soil, the longest streak for one head coach.
His Edmonds Warriors would win back-to-back North Pacific Football League titles in 1964 and 1965 before Lafa Lane purchased the team and renamed it the Seattle Ramblers for the 1966 season. Finishing 10-0 with another league title and PFL Coach of the Year honor, McCain braced for a major step up in competition as Lane had lofty goals for a professional franchise in the Seattle area.
The Ramblers became the Rangers in the 1967 Continental Football League and the players became professionals. McCain's win streak would be ended on September 2 by the Victoria Steelers, and a mid season slide through the tough California part of the schedule and an 8-6 record brought the displeasure of Lane who wanted an immediate champion. In 1968, the Rangers split with cross-state rival Spokane and at the end of a 7-5 campaign, McCain was fired.
McCain was a QB at Ballard HS leading them to an undefeated season and state championship in 1951 and with the University of Washington (1953-1955). Played QB for the "original" Seattle Ramblers from 1960-61 before embarking on a coaching career with the newly formed Edmonds Warriors. As quarterback of the Ramblers, McCain lost only 1 game he played in while the team was 18-2 during that span.
An undefeated state champion in high school, undefeated season as QB of the Ramblers and 3-time undefeated league champion as a head coach solidified his status as a Legend of the Game in Northwest minor league football.
Mel was inducted into the Pacific Northwest Hall of Fame in 2008.