Honors
Dan Poasa 2007 MLFN Hall of Fame Inductee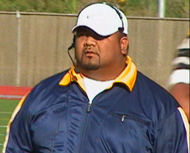 All-League
Mike McKinley, RB (2006 PNFC 1st)
Curtis Hagg, FB (2006 PNFC 1st)
Justin Bronn, OL (2006 PNFC 1st)
T. Logrande, OL (2006 PNFC 1st)
Kelly Fee, OL (2006 PNFC 1st)
Jacob Petz, WR (2006 PNFC 2nd)
Dion Terry, TE (2005 NWFL Hon Men; 2006 PNFC 2nd)
Mark Feirst, OL (2006 PNFC 2nd)
Sean Foster, PK (2006 PNFC 2nd) P (2006 PNFC 2nd)
J. Johnson, DT (2006 PNFC 1st)
Mariano G. Tabali, LB (2006 PNFC 1st)
Chris Watson, DB (2006 PNFC 1st) KR (2006 PNFC 2nd)
Kevin Tomyk, DT (2006 PNFC 2nd)
S. Hicks, LB (2006 PNFC 2nd)
Eddie Kaeka, FS (2005 NWFL Hon Men)
All-America
Curtis Hagg, FB (2006 MLFN 2nd)
The Avalanche started out as an independent team in 2004 playing a seven-game season against NWFL opponents. The Avs would become full members of the NWFL in 2005 and suffered through their worst season in team history going 1-11 salvaging the season with a 7-0 victory against the Pierce County Bengals to keep from becoming the first team in history to lose 12 games in one season.
Craig Jackson decided to try something new. With a change in looks and a change in leagues, the Avalanche left the NWFL for the spring-time Pacific Northwest Conference. The change worked as they finished 5-4 with an appearance in the PNFC playoffs.
2007 brought the team back down to earth finishing 2-7 including a thrashing at the hands of the South Sound Shockers in the PNFC Playoffs 63-0. Jackson would sell the team off to another ownership group who reorganized under the name Bellingham Bulldogs.