Henry A. "Heime" Bendele
b. 1906- d. 1962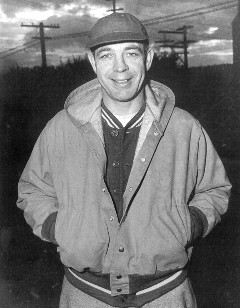 Ballard "Pacific Chairs" Athletic Club
Fullback/Linebacker
1927 - 1930
For four seasons following his high school days at Ballard, Henry Bendele, nicknamed "Heime" honed his football and baseball skills on the Seattle Community League fields of the late 1920's.
The Ballard Athletic Club, with the bruising 180 lb fullback with nimble feet, and the linebacker that could diagnose every offense he faced, went undefeated and won back-to-back championships in 1927 and 1928. The 1929 season saw Ballard go undefeated until the final game where the mighty team from Seattle's University District ended the 17-game winning streak and 5 straight games without allowing a score.
Washington State College came calling on the big back and from 1931-1933 Bendele was a Cougar letterwinner that included letters in baseball during the 1933 and 1934 seasons.
In 1935 he was hired to coach at Rogers where he remained until being hired by his alma mater in 1938. Henry spent the next 22 years as Ballard's football coach touching countless lives along the way.
In 1940, the Seattle P-I listed him as a nominee for Man of the Year. He was again nominated for the prestigious award in 1947. Henry retired in 1959 and died at a very young age in 1962.
After winning 125 games in his career and being the winningest coach in Ballard school history, the Washington State Football Coaches Hall of Fame inducted him posthumously in 1980.
In a tribute to the coach that touched his life while attending Ballard in 1951, Victor Salvino donated $50,000 to the renovation of the high school weight room.
The Pacific Northwest Football Hall of Fame elected Mr. Bendele for induction in 1994.
Henry Bendele, using minor league football to sharpen his skills, parlayed that opportunity into an exceptional college career, and an eventual profession as a successful football coach at the high school level.