Jay Graybeal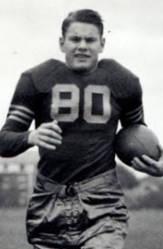 West Seattle Yellowjackets/Seattle Shipbuilders - Quarterback
1941-1942

Acquiring the moniker as the "Pendleton Jackrabbit," Graybeal was a United Press All-Coast halfback as a sophomore in 1937 for the Oregon Ducks. Weighing just over 150 pounds, he could do almost anything on the gridiron. He ran, passed, caught, punted, returned kicks and booted extra points, as well as returned interceptions on defense. The Oregonian's legendary L.H. Gregory called him the "best pass catcher in the Northwest."

Returning the longest punt return for a touchdown at that time, his 90-yard scoring return remained the school's second-longest ever heading into the 21st century. As a sophomore, Jay led the Ducks in rushing while scoring seven TDs. It wasn't unusual for him to account for all of his team's scoring in games throughout his three-year career. Bulking up to 165 pounds by the end of his collegiate career, he was named a first-team all-Pacific Coast Conference and honorable mention United Press All-American as a senior. He declined an offer from the Washington Redskins to return to Pendleton to become a business leader and civic benefactor.
The West Seattle Yellowjackets would acquire the services of Graybeal who set a then record 96-yard run for touchdown in the 1941 Northwest Football League championship to start an onslaught that buried the Seattle Aero Mechanics. Work obligations forced him to miss a 1942 trip to take on Spokane while playing for the Seattle Shipbuilders. Like many from Jay's era, his football career was cut short by war.
Graybeal joined the Marine Corps in 1943 returning to Pendleton, Oregon following the war to raise his family.