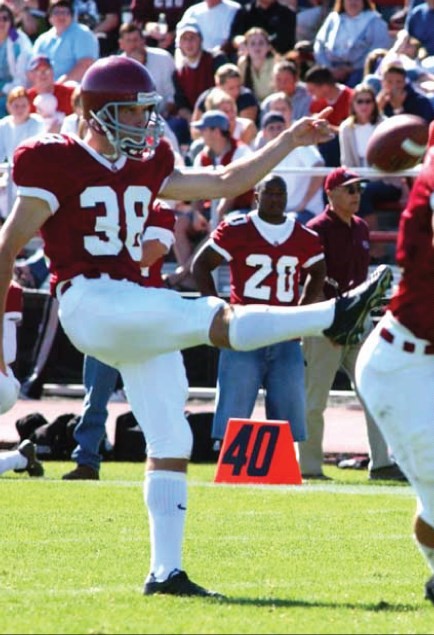 Mark Joseph Smith
Yakima Mavericks
Punter - Place Kicker
2005 - 2010
New York Jets Training Camp
2008
A booming leg and quick as lightning. Joe Smith was not your average kicker in the semi pro game. When was the last time you saw the kicker boot the ball and then proceed to out race his teammates to tackle the opposing return man? Joe was 10 yards ahead of his teammates. A natural athlete, his college coaches once debated about using him as a wide receiver. The same former soccer player who didn't play football until high school.
Smith played for the Central Washington University Wildcats from 2000-2003 where he had a Hall of Fame career (CWU 2017) setting University and Great Northwestern Athletic Conference records with a career mark of 43.2 yards per punt. As a senior, Smith averaged 44.2 yards setting a single season mark at CWU and earning All-American honors as the top punter in NCAA Division II.
After college, Smith caught on with the local Yakima Mavericks where he continued to dominate earning the Evergreen Football League Special Teams MVP award in 2005. In 2007 he earned GNFA 1st Team All-Region honors at both Place Kicker and Punter averaging 46.1 yards per punt, good for 2nd All-Time in the Northwest Region record books. The Mavericks also utilized Smith as a deep threat receiver with his blazing 4.4 speed he showed off at the CWU pro day following his senior year.
Brett Favre Link

On June 10, 2008 a lifelong dream was realized when Joe signed a $295,000, one-year contract with the New York Jets proudly wearing the #4, this time in green and white. The dream would last only a few weeks as he was released July 29 in favor of Australian team veteran Ben Graham, and his #4 jersey was given to Hall of Fame NFL Legend Brett Favre who came out of retirement to sign with the Jets. The Green Bay Packers quickly picked up Joe off of waivers to compete with Derrick Frost, whom the Packers eventually kept as their punter. Frost had been an NFL Top 10 punter in 2004 and 2006.

Joe returned to the Mavericks keeping his leg in shape for the next opportunity and in 2009 he again earned GNFA 1st Team All-Region honors as both Punter and Kicker. He upped the ante by booting a 60-yard field goal and a 91-yard punt in the same game on April 25th ranking 3rd and 2nd all-time respectively.

Playing sparingly in 2010 due to work obligations, Joe still showed his power hitting a 62-yard field goal in a game on April 23, breaking his own record set the previous year.

Joe unexpectedly passed away in February of 2013 at the age of 31.

Honors
2005 Evergreen Football League Special Teams MVP
2007 Evergreen Football League Special Teams MVP
2007 GNFA 1st Team All Region Punter
2007 GNFA 1st Team All Region Place Kicker
2008 - Signed with New York Jets
2009 GNFA 1st Team All Region Punter
2009 GNFA 1st Team All Region Place Kicker
"Joey was the only one from Enumclaw High School picked as 1st Team All League Boys Football. He only played his senior year. He had played soccer from 4th grade up. This was in 1998: Joey Smith, Enumclaw punter, 6-1 175lb Sr. A soccer convert who got a workout for the 1-8 Hornets. Averaged 41.9 yards on 41 punts, second best all-time SPSL average. Boomed at least one 50-yarder in nearly every game. (this was what was posted in the Seattle Times.) And he made it to the State Finals for the Punt Kick and Pass. He took second, so he didn't get to go to Hershey PA for the Finals" - Tami (mother of Joe Smith)