Michael N. Oliphant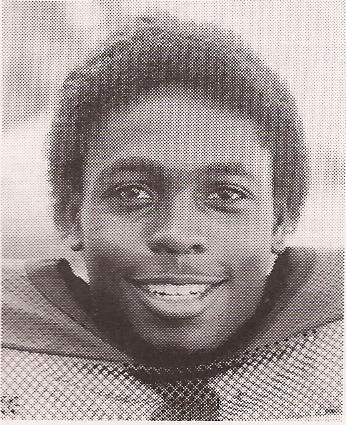 Auburn Panthers - Running Back
1984
Spending only one year as a semi-pro player with the Auburn Panthers, Mike Oliphant parlayed that opportunity into one of the semi-pro dreams; a spot on an NFL roster. It actually only took Oliphant four games as a Panther to get noticed and invited to be a part of the University of Puget Sound's football team.
It all started May 19, 1984 when Michael and the Panthers were introduced on a cold and rainy Saturday morning at the first-ever tryout camp for the Auburn franchise. Oliphant was one of 70 players on hand and few came with less credentials. His background was limited to Little League ball and a year on the Auburn High School sophomore team. "I really didn't even play much as a sophomore," he said, whose duties were limited mostly to returning kicks. "I was too small in high school," he remembers, "I was only about 5'6", 150 lbs. Transferring to Federal Way High School midway through his junior year, Michael never tried the game again until the Panthers arrived on the scene. Hearing about the team at an Auburn restaurant, the now 5'10" 170-pounder doubted his ability next to all the outstanding athletes the Panthers were putting together, but decided to give it a shot anyway, because deep down, he knew if given a chance, he could shine.
DIAMOND IN THE ROUGH
Most of the players at the workout that day had been recruited by Panther Head Coach Steve Harshman or invited to participate, but the unknown kid made his presence felt immediately. Working out with the wide receivers; it was time to run 40-yd dashes. Harshman recalls, "Mike was clocked between 4.43 and 4.5 seconds on three consecutive runs. We were very impressed with his speed, he caught the ball well, too. We were surprised when we looked at his limited background". What happened next was great foresight on the part of Coach Harshman. With the top three pass receivers in the NFA from '83 listed on the Panthers roster, Harshman decided to move Oliphant to running back. "Our only concern about him was what would happen when he got hit the first time." Harshman said. Michael responded on his first carry in a scrimmage by bouncing off a pair of tacklers and spinning free for a 15-yd gain. The Panthers had something special.
In the opening non-league game of the season, Oliphant broke a scoreless tie with the Bellevue Express with a dazzling 34-yd dash to paydirt, scoring the Panthers first-ever touchdown. The Panthers would win in overtime on Oliphant's 13 carries for 93 yards and 2 receptions for 25 yards.
The next week, he only carried 9 times for 36 yards, but it was his pass reception for the winning touchdown that kept the Panthers on the winning track, and set the stage for Michael's breakout game.
Against the Spokane Fury, Michael busted loose only four minutes into the game and brought the crowd to its feet with a sizzling 85-yd touchdown dash. Six minutes later he took a pitch-out on a sweep left for 77-yds and another touchdown. On the night this sudden star rushed for 172 yards on 11 carries.
COLLEGE CONNECTIONS
The next week, he helped the Panthers in a come-from-behind 31-30 victory over the Express, and got his first call from Puget Sound coach Ron Simonson. The next three days were a blur of entrance exams and financial aid forms as he made the big decision to leave the Panthers and enroll in college. Harshman and Oliphant discussed the dedication of going to classes as well as playing football that this move meant for a 21-year old who had been away from the books for over three years. With help from former elementary school best friend, Roy Medley, now the UPS quarterback, and running back Todd McGrady and heeding Coach Harshman's advice, Michael made the jump even though he missed the first four days of practice and would not get to play in the first game against Linfield. The next week against crosstown rival Pacific Lutheran in the Tacoma Dome, Michael watched from the sidelines as PLU opened up a 22-10 halftime lead.
"I told Coach Simonson at halftime I was 'hungry'," Oliphant said. Simonson replied: "We don't feed everybody who's hungry." But when the Loggers took the field in the second half, Oliphant was in the backfield and he responded on 17 carries with 129 yards leading UPS to a 32-22 comeback win. He was named All-Evergreen Conference Player of the Week.
Later in the season he had a 90-yard kickoff return for a TD against Whitworth. He would be named to the All-Evergreen Conference team as a kick returner.
In 1985 he was named a 2nd Team NAIA All-American.
By 1986, Michael had become an NAIA All-American, and was also starring as a track athlete posting a 10.6 in the 100 meters and 21.8 in the 200 meters ranking in the Top 10 all-time at UPS. His records that still stand at UPS include: Points scored in a game (30), in a season (96), TD in a game (5), and TD in a season (16).
In 1987 he was again tabbed a 2nd Team NAIA All-American, Kodak All-American, and AFCA All-American, 2nd Team AP Little All-America, All-Conference Player of the Year and his third selection as an All-Conference Player ('85, '86, '87).
In 1988 he earned the Ben Cheney Most Outstanding Male Athlete award at UPS and was drafted by the Washington Redskins in the third round of the 1988 draft (pick #66). As a 25-year old rookie, he appeared in 8 games carrying the ball 8 times for 30 yards, catching 15 passes for 111 yards, returning 7 punts for 24 yards and 7 kickoffs for 127 yards.
In a trade with Cleveland, where Ernest Byner was sent to Washington in exchange for Oliphant, the Browns got 18 games from '89-'91, but only 1 rushing touchdown.
REDEMPTION
Mike resurrected his career with the CFL's Sacramento Gold Miners in 1993, after being cut from the Seattle Seahawks in '92, leading the team in rushing with 760 yards and 8 touchdowns. Once again, Oliphant would score the first-ever touchdown for a franchise, just as he did with the Auburn Panthers nine-years prior, Michael would dash into the record books with the CFL's first US-based franchise on July 7, 1993. He would tack on another 812 yards receiving and 5 more touchdowns in '93 earning a spot on the CFL All-Star team with 1,572 yards from scrimmage and 13 scores.
A thigh injury crippled his '94 campaign gaining only 27 yards rushing and 75 yards receiving.
In 1995 Mike would work with the Winnipeg Blue Bombers for a few games before calling it a career at the age of 32. Michael Oliphant had done what all semi-pro players dream of...received a second chance at football and capitalized on it. A college education and an 8-year professional career.