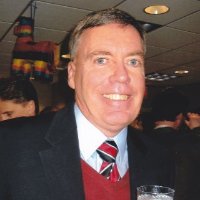 Patrick Kearney
Butte, Montana
Historian - Broadcaster
May 25, 1955 - Oct 12, 2014
If you wanted to know something about sports history in Butte, Montana you talked with Pat Kearney. Working closely with Mr. Kearney to archive the semi pro football presence in the Mining City region, the GNFA was saddened to learn of his passing.
A standout Butte Central athlete in Cross Country for two State Championship teams, Pat moved on to Montana State University in Bozeman earning a degree in Film and Television. Brief stops in Great Falls and Billings eventually led him back to Butte as News Director at KXLF TV. His passion for Butte was second to none and led to the writing of several books about Butte History. The long time play-by-play broadcaster for all the Butte Central football and basketball games, his enthusiasm and excitement made those listening on the radio feel as if they were in attendance.
Instrumental in forming the Butte Sports Hall of Fame, if you wanted to know the history or players stats and accomplishments, Pat was the go to man. Long time Butte coach Sonny Holland proclaimed "Butte has without a doubt the finest sports hall of fame in the country." This is a strong indicator of Pat's integrity and attention to detail.
Prior to his passing, Pat was assisting with the history of the Butte Independent Football League which enjoyed success from the early days of the 1913s to 1941. These "lost archives" have been instrumental in piecing together a rich history of football in Butte that rivals that of Seattle, Tacoma and Portland of the same time period. Thousands of men made their way to the Butte and Anaconda mines bringing their football talents along with them and providing some of the best games on the gridiron in the Pacific Northwest.
Pat Kearney and his passion for history was invaluable to the GNFA and the Montana history section. He will be missed.