Honors
All-League
Hollis Huggins, RB (2000 - 1st)
Damon Gendron, PK (2000 - 1st)
Spencer Steiner, LB (2000 - 1st)
Clark Crowder, OL (2000 - 2nd)
Steve Hinderer, DL (2000 - 2nd)
Cory Casagrande, LB (2000 - 2nd)
All-America
The Kodiaks were formed in 1997 from the remnants of the Bozeman Cardinals which played in the InterMountain Contact Football League from 1993-1996.
Key Players:
QB Robert Dieffenbach (6 yrs)
Montanta State WR Kenyatte Morgan (5'6" 170) played for the Kodiaks in 1998 while sharpening his skills for a shot at the Arena Leagues and would later earn a spot with the Scottish Claymores of NFL Europe after tryout with the Packers and 49ers of the NFL. After starring for the Kodiaks he caught on with the Oregon Thunderbolts in Portland where he was spotted by Forest Dragon assistant coach James Fuller. He returned to play for the Kodiaks again in 1999.
Morgan is the all-time leader in kick return yards in Arena 2.
Morgan's career included stops with:
1999 - Portland Forest Dragons (AFL)
2000 - Oklahoma Wranglers (AFL) injured
2001 - Buffalo Destroyers (AFL)
2002 - Grand Rapids Rampage (AFL)
2003 - Green Bay Packers (NFL - signed 2/27/03)
2003 - Scottish Claymores (NFL Europe)
2004 - San Francisco 49ers (NFL) workout
2005 - Calgary Stampede (CFL) released
2006 - Arizona Rattlers (AFL) waived
2006 - Bakersfield Blitz/Stockton Lightning (AF2)
2007 - Stockton Lightning (AF2)
2008 - Stockton Lightning (AF2)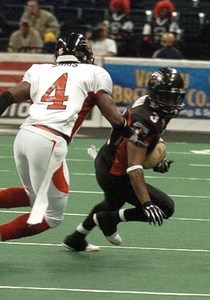 Kenyatte Morgan