Harry Washington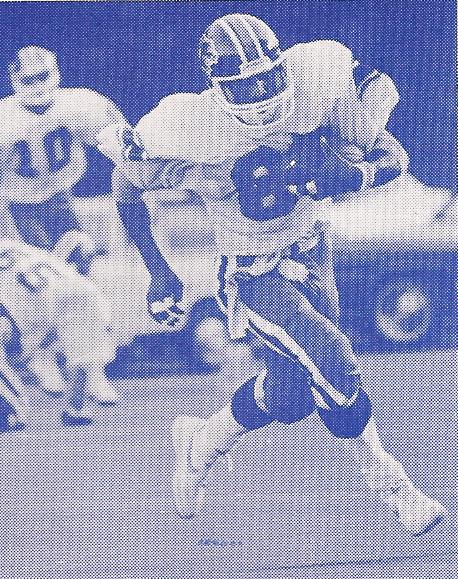 Pierce County Bengals/Oregon City Steelheads/West Seattle Warhawks/Auburn Panthers
Wide Receiver/Return Specialist
1977, 1979-1987

Hands down one of the greatest wide receivers and return men to play minor league football in the Northwest. Washington was three-times the NFA Player of the Year for 1984, '85, and '86.
Former Colorado State Ram, who still holds the single best punt return average in a game (32.0) against UTEP in 1976, Washington found his way to the Minnesota Vikings in 1978 and Chicago Bears in 1979 appearing in 16 NFL games, after starring at Stadium and Henry Foss HS in Tacoma and attending junior college at Grays Harbor CC.
Washington returned to Tacoma playing for the Pierce County Bengals in 1977 earning 1st Team All-League on an undefeated team named by Pro Football Weekly as their Minor League National Champions. Harry Returned to the Bengals in 1979-80 after his NFL stint again earning 1st Team honors on championship teams.
By 1982 Washington was on the West Seattle Warhawks earning 1st Team honors again but unable to bring the team to the championship. The formation of the Auburn Panthers brought him back to a winning franchise where he reeled off his first of three consecutive player of the year honors on three consecutive undefeated teams. Harry retired from football to join the military in 1988.
His 19 TD receptions in a season (including 3 in the West Coast Championship) was a Northwest record for 23 years, as was his 240 yards receiving in a game recorded in 1983. Harry still holds the record for punt returns in a game (9) and is second in yards returned in a game at 131.
By the years:
1977 - Pierce County Bengals (1st Team All-League)
1978 - Minnesota Vikings (NFL - 1 rec 24 yds; 4 pr 71 yds; 10 games)
1979 - Chicago Bears (NFL - 6 games)
1979 - Pierce County Bengals (1st Team All-League)
1980 - Pierce County Bengals (1st Team All-League)
1981 - Oregon City Steelheads
1982 - West Seattle Warhawks (1st Team All-League)
1983 - West Seattle Warhawks (1st Team All-League)
1984 - Auburn Panthers (NFA Player of the Year)
1985 - Auburn Panthers (NFA Player of the Year)
1986 - Auburn Panthers (NFA Player of the Year)
1987 - Auburn Panthers (1st Team All-League)