Bryan Barker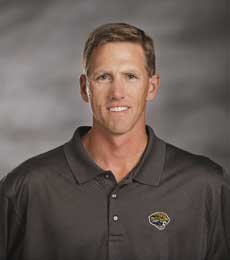 Former Auburn Panther (1986) and Warhawk (1987) Punter's Journey to the NFL

Bryan Barker officially filed his retirement papers with the NFL this past spring (2007) after 16 years and 236 games with six teams. Barker started his career with the Kansas City Chiefs in 1990 and played his final game with the St. Louis Rams in 2005. After sitting out the 2006 season, Barker decided to call it a career with a 42.1 career punting average.

"I stayed in shape in 2006 in case a team needed a punter midseason," said Barker. "I didn't get a call and I have a lot of other things going on that I want to focus on, so I decided that the time was right. I was ready to move on."

Solely based on the numbers, Barker had a remarkable career. 1,132 punts, 878 consecutive punts without a block (2nd all-time in NFL history), 326 career punts inside the 20 (3rd all-time in NFL history), NFL All-Rookie Team, 1997 Pro-Bowler, and three NFL Mackey Awards (conference's best punter). He also finished his career two-for-two throwing the ball, including a 22-yard pass against Pittsburgh on Monday Night Football. Those numbers, however, only begin to tell the story of Barker's career as a professional punter. That story begins back on the campus of Santa Clara University.

Barker arrived on the Mission Campus from Orinda as a freshman in the fall of 1982 with the idea of playing football for the Broncos. He had played safety, back-up quarterback and punter at Miramonte High School. After a summer of practicing his punting, he thought that punter would be his best shot of making legendary Santa Clara coach Pat Malley's Broncos team.

"The equipment manager gave me 91 as my number because he thought I had no shot of making the team that year," recalled Barker. "Getting that number motivated me, because I wanted to prove that I belonged. Once I made the team, they tried to give me a different number, but I stuck with 91 for that first year."

Barker not only made the squad, but he grabbed the starter's job and did not relinquish it for four seasons. He thrived for the Broncos, helping them to a 7-4 mark (3-1 in the Western Football Conference) in his freshman season, tying the school record with 74 punts. "He was always a hard-worker and would not take no for an answer," said SCU classmate Jim Tanner '86. "Every year he would beat out the entire team on the run up the dam in Los Gatos. It was pretty amazing to have the punter do that."

One of his most stunning accomplishments at SCU came during his junior season in a victory over Humboldt State. Barker crushed an 81-yard punt in the game, the second longest punt in school history. "He really hit that punt very hard," said former Bronco head coach Terry Malley. "You don't see kicks like that very often. That was just a vintage kick and I don't think I have seen one like that for a long, long time." Prior to his senior season, Barker and the Bronco community suffered the tragic loss of head coach Pat Malley to cancer. Barker, like many Bronco football players, credits Malley for a lot of his success on the football field and in life.

"Pat was the face of Santa Clara athletics," said Barker. "He really embodied the spirit and ideals of the Santa Clara community and he had a big impact on me. There was not a better person that I could have met as my first contact at Santa Clara." Pat's son, Terry, took over for his father as the head coach for Barker's final season on the Mission Campus. The Broncos went 8-2-1 and won the Western Football Conference that season, as Malley was named the conference coach of the year. Barker finished his collegiate career as the Broncos all-time leader in punts with 248 and his 49.8 punt average against Humboldt State set the school record for a single game.

Upon graduation from Santa Clara, Barker's football saga really began, as he had no concrete offers from the NFL. "The hardest thing for a punter is that there are hundreds of colleges with football and only 32 NFL teams," said Terry Malley. "Bryan had to really work at it to get noticed and then to prove himself." Following his best lead, Barker moved to Seattle. One of the Seahawks scouts was Phil Neri, a former Bronco player who played under Pat Malley. Unfortunately, the Seahawks drafted a punter that year and Barker ended up with the semi-pro Auburn Panthers. "Signing with the Panthers was nice at first, but they started winning every game comfortably and they barely needed to punt," noted Barker. "I had to ask the owner if I could switch teams so that I could get more chances to punt. Luckily, he knew that my goal was to reach the NFL and he let me to go to the worst team in the league."

In 1987, Barker was playing with the Southside Warhawks in Tacoma when the NFL strike began and was invited to attend training camp as a replacement player. However, sticking to his principles, Barker turned down the opportunity. The following year, Barker finally got himself into the Denver Broncos training camp, but head coach Dan Reeves cut him before the season started. After a year of coaching, Barker then signed a contract with the Seahawks and was one of two punters in camp.

Again, the road would not be easy, as he was cut by Chuck Knox. "Even though I had not made it yet, I felt good about my chances," said Barker. "Each year, I got a little bit more of a taste and in 1989, I played in some preseason games. I knew I was close and that my chance would come."

That chance came in 1990, in spite of one final obstacle. Marty Schottenheimer, then the coach of the Kansas City Chiefs, brought Barker in to training camp with one other punter. On the night of the last cut, Barker was told he had the job only to learn just a few hours later that the coaches had changed their minds. The story would finally have a happy ending for Barker, as he was called in to replace the other punter after three games.

He played his first game against the Cleveland Browns at Arrowhead Stadium and would never look back, playing 16 consecutive seasons in football's best league. "The reality of making it to the NFL really hit me that first game," said Barker. "I remember looking out on the field and thinking how great it was to make it. A few weeks later, we played the Raiders and I was in awe, because that was my team as a kid." Barker made an immediate impact with some very good Chiefs teams that featured Christian Okoye, Derrick Brooks, Steve DeBerg and later on, Joe Montana. The 1990 Chiefs went 11-5 and reached the divisional round of the playoffs. "Bryan had the skills to punt in the league and was a guy you could just always count on," said Schottenheimer. "He almost never had a punt blocked because he was such a great athlete. He could handle all the snaps and get the ball away quickly and accurately."

Barker was named to the All-Rookie team his first year and then averaged over 40 yards a punt in his next three seasons to establish himself as one of the top punters in the league. He not only was excelling on the field, but he was recognized as a great teammate and one of the hardest workers on the team. "He was arguably our hardest worker," said Schottenheimer. "Also, his interaction with the team was excellent and his teammates all held him in high regard. He took his job very seriously and the team noticed that and respected him for it. Th e fact that he was so athletic and could throw the ball also helped him win respect."

As his career was starting to take off on the field, Barker also became a leader off the field, getting himself heavily involved in community outreach endeavors. "I am as proud of Bryan for his efforts in the community as I am for his success in the NFL," said Malley. "Helping out in the community that you live in is something that we stressed at Santa Clara to our players and he really took that to heart." Barker and his wife, Leah, started the Let Us Play Foundation that annually sponsors Let Us Play Sports Camp for girls and the Let Us Play Junior 2K for kids in Jacksonville, Fla. He has now started organizing Let Us Play camps in a number of other NFL cities to bring his message around the country. NFL Charities has even given him grants for the camps, which are designed to motivate inner-city girls to see the benefits associated with sports and education. "Giving back has always been important to my wife and me," said Barker. "It was just natural to get involved."

After leaving the Chiefs in 1993 and spending the 1994 season with the Philadelphia Eagles, Barker signed with the expansion Jacksonville Jaguars in 1995 and enjoyed the best years of his career. With the Jaguars, he twice won the Mackey Award, given to the AFC's best punter, made the 1997 Pro Bowl and the 1997 All-Pro team. With Barker the Jaguars twice made it to the AFC Championship Game (1997, 1999) and won back-to-back division titles in 1998 and 1999.

In 2001, he was reunited with Schottenheimer in Washington with the Redskins, where he spent three seasons. He attempted a career high 90 punts in his first year there. Despite reaching his 40s, Barker's numbers did not slip and he continued to average a high number of kicks inside the opponents' 20-yard line. After 16 games in Green Bay in 2004, Barker finished his career with the Rams in 2005, averaging 42.7 yards per punt, his best average since 1998. With his NFL career behind him, Barker now has more time to focus on his foundation as well as a number of other projects that he is involved with, including coordinating the Jaguars Alumni Group and overseeing a company, Argus Benefits, that he co-owns.