Don R. Sprinkle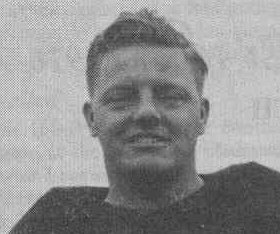 June 16, 1916 - August 9, 1963
Don was a varsity fullback for the Queen Anne High Grizzlies in 1931, 1932 & 1934. He dropped out of high school during the 1933-34 year in order to work full time and help increase the family income during the depression. He also delivered papers for the Seattle Times and Seattle Post-Intelligencer to help make ends meet. Suffering a knee injury in 1934, Don would be hampered by knee injuries throughout his playing career. These same knee injuries would make him unacceptable to the armed forces during World War II.
In 1935, through the efforts of Dr. Harry Moore, Don received a football scholarship to the University of Oregon where he played football on the Freshman team, but was forced to quit in order to return home and work. Being extremely devoted to his family, Don later quit the University of Puget Sound in order to earn an income for his struggling family. While working for the Seattle Gas Company in the late 1930's, Don played semi-pro ball for the Renton Rams (1938-1940) of the Northwest League.
As a volunteer coach in 1940, Sprinkle began with the Queen Anne Frosh-Soph team and continued on through 1942. That would be the same year Don began as a reserve deputy with the King County Sherriff's Department. While on his honeymoon with new wife Audrey (VandeKant) Don was informed he would become a regular deputy. He would eventually join the Seattle Police Department where he served until 1955.
As a coach, Don's Queen Anne Boys Club Football Team won 3 championship, 1 co-championship, and finished 2nd in 1946 during a five year span from 1944 - 1948.
In 1948 he took over head coaching duties of the Rainier Beach Athletic Club Ramblers. During the 1948 season he held practices for Queen Anne on Monday, Wednesday and Friday nights, while Rainier Beach practices would be held on Tuesday and Thursday nights and Saturday mornings. On Sunday was game day, where he coached Queen Anne during the 1st half, then rushed to the kickoff of the Rambler game several miles away.
The Don R. Sprinkle Football Scholarship was established by January 1964 and in February Cleveland High School's 3-sport athlete Jerry Bailey became the first recipient of the scholarship.
In 1950 the Rainier Beach Athletic Club became the Seattle Ramblers and embarked on a historic run through semi-professional history accumulating a 108-46-3 record including 4 undefeated seasons and 2 league championships. The team would play the 1963 and 1964 seasons without their beloved coach, but missing Don and the emergence of the Edmonds Warriors who took many former Rambler players, the team just couldn't compete in the changing semi-pro scene and the final game would be played at Portland. The Ramblers lost their final game of a 2-9 season and drifted off into history.
In 1952 Don was voted the Charles E. Sullivan Award by the Puget Sound Sports Writers and Sportscasters Association for distinguished service to Northwest athletics over a period of years.
From 1955 until January 1963, Don was the Undersheriff of King County. He graduated from the FBI Academy in Quantico, VA in 1956 and was elected Sheriff of King County in 1962, serving from January 1963 until his untimely death in August of 1963. He was 47.
Don Sprinkle was as dedicated to athletics as they come. Family, Community and Football, Coach Sprinkle touched innumerable lives during his short life.
"Take A Lap" - Published 1989; Author Don E. Ridge