Francis O. "Fanny" Hunting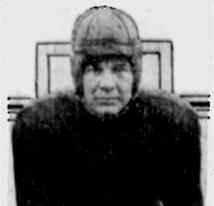 b 1905 - d 1986
West Seattle Yellowjackets
1931-1937
Quarterback, End, Punter, Head Coach
A native of Iowa, "Fanny" Hunting played and coached for the West Seattle Athletic Club Yellowjackets after a stellar career at Gonzaga in both football and baseball The Yellowjackets won four consecutive Northwest Championships under Fanning. A 1932 meeting with the sailors from the USS Oklahoma, Hunting exploded for 3 touchdowns and two tries-for-point. One of his scores was a 71-yard punt return.
From 1926 - 1929 Hunting was the star of the team becoming the first Gonzaga player to appear in the 1930 East-West Shrine Game in San Francisco. Fanny was considered one of the best triple-threat players in Gonzaga history and one of the Northwest's greatest punters.
One of Most Memorable Performances
In one game against St. Martin's in 1932 his daily totals included 3 punts for 215 yards (71.6 average), 4 punt returns for 205 yards and a TD (51.25 avg) completed 19 passes and caught 2 passes, one going for 45 yards, rushed once for 22 yards all while running the team at QB and being off the field for one period.
He returned to Gonzaga after 7-seasons with the Yellowjackets to become an assistant coach under Ray Flaherty. He was handed the freshman team for 1939 and was asked to take over as Gonzaga's Athletic Director in the fall of that same year.
Once he left football, Hunting became a senior inspector with the state Liquor Control Board based in Yakima. During World War II he served four years as the director of physical training for the 2nd Air Force. The Superbombers went on to win the 1943 Sun Bowl. He retired as a lieutenant colonel after 17 years with the Air Force Reserve. In 1932 he married Margaret Mary "Peg" Ford and had two sons. Elected to Gonzaga's Hall of Fame Class of 1991 and named by the Gonzaga Bulletin as the QB on the Gonzaga All-Time Team.
Hunting was also a noted horseshoe pitcher winning many competitions around the region.