Marvel K. Harshman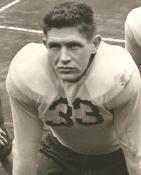 Fullback/End
Pasco Naval Flyers/San Diego Navy/Tacoma Indians
(1942 - 1946)
Before becoming a legend of Northwest basketball, Marv Harshman was one of the most dangerous weapons of the Pacific Lutheran football team that won 18-straight games from 1939-1941. He was the highest scoring college football player on the west coast in 1940 and earned All-America accolades in 1941. The Chicago Cardinals selected him in the 15th Round of the 1942 NFL draft at #134, the equivalent of the 5th Round today. The Steelers and Eagles also showed strong interest as the telegrams below show.
Later, playing military football during the war, he and fellow "Marvelous Marv's" cohort Marv Tommervik led teams to greatness. Immediately upon graduation from PLU, Harshman was signed on to play with the Pasco Naval Air Base Flyers, making it one of the toughest northwest military teams in 1942 in both football and basketball. During his three years of Naval service during WWII, Harshman landed with the San Diego Navy team that defeated the unbeaten 1945 University of Southern California Trojans (USC). It was following the war that Harshman, a former 3-sport standout was hired to coach basketball at his alma mater. During his tenure, there he would also coach football, track and take on the position of Athletic Director.
It was while coach in 1946 that the Tacoma Indians came calling on the "Marvelous Marv's" wanting them to play. Eventually, and with a $2000.00 incentive and $7800.00 salary for the season, Harshman agreed to play for the Indians instead of the AAFC's New York Yankees. At 28, Harshman used the money with his wife to buy a set of furniture and start their lives in Tacoma. That would be his final year of football, but his legend was just beginning. As a basketball coach he would be named Pac-8 Coach of the Year (1976), Pac-10 Coach of the Year (1982, 1984) and Kodak Coach of the Year for Division 1 (1984). He led the PLU team to the NAIA Championship (1959), and was seven times, NAIA District 1 Coach of the Year. He coached the Gold Medal winning USA team at the 1975 Pan American Games in Mexico City, and enshrined in the Naismith Memorial Basketball Hall of Fame in April 1985. Pacific Lutheran University honored him in 1990 as the first member of the school's Hall of Fame. For his career, he was 642-448 as head basketball coach. In 2010 he was inducted into the Snohomish County Sports Hall of Fame having been a Lake Stevens graduate in 1935.
Marv Harshman found his greatest success as a basketball coach at the college level, but had it not been for the break out of war, Harshman could have easily been a legend of the professional gridiron instead as evidenced by the bidding war he commanded in 1946 as a 28-year old "rookie".
Football Career:
1939-1941 - Pacific Lutheran Lutes - All American (1941)
1942 - Pasco Naval Air Base Flyers
1945 - San Diego Navy
1946 - Tacoma Indians
1945 - 1950 - Pacific Lutheran University (Assistant Coach)
1951 - 1957 - Pacific Lutheran University (Head Coach - 27-26-2)
Basketball Head Coach:
1945 - 1958 Pacific Lutheran University
1958 - 1971 Washington State University
1971 - 1985 University of Washington