Leon H. Brigham

b 1901 - d 1987
Italian Athletic Club / West Seattle Yellowjackets / Seattle Ironworkers
Head Coach
The Namesake on Seattle High School's Memorial Stadium Scoreboard, Leon Brigham was a coach ahead of his time. In the late 1930's a guy named Clark Shaughnessy "revolutionized" football when Stanford introduced the T-formation to college football at a game in Chicago. Brigham had been running the formation since he took over at Garfield in 1921. Garfield High won or tied for 8 city championships from 1928-1938 under "Brig" who coached for 22 years until 1943. By 1944, he was the Seattle school system's first director of athletics. He was ahead of his time in race relations as well with "Wasp" kids, Japanese boys, Chinese, Black and Jewish kids. He turned out athletes like black stars Sammy Bruce, Homer Harris (Iowa - first black captain of a Big 10 football team), and Brennan King, and Japanese boys like Shiro Kashino, Mike Hirarahara, Sadao Baba, and Harry Yanigamachi. His kids went on to become military generals, college teachers, doctors, lawyers, politicians and civic leaders. He urged the building of new gyms at Seattle high school and introduced night football.
As a coach with the Italian Athletic Club, his "Italians" won the Seattle Community League championship all three seasons he was head coach from 1935-1937. That led to his take over of the West Seattle Yellowjackets in 1938. His Yellowjackets would win the 1938 championship and go undefeated for the 1941 crown. After winning the championship Brigham threw his hat into the ring as a possible successor to Jimmy Phelan at the University of Washington. He would coach the Seattle Ironworkers in 1943 as part of the War Industries League.
Brigham was a quarterback on the football team, a basketball player and track athlete at the University of Iowa from 1918-1920 and an assistant coach and a legit candidate for the head coaching job in 1920. Returning to Seattle, Brigham took the head coaching job at Garfield in 1921 and was a guide on Mt. Rainier from 1925 until 1929 when he was badly injured in a fall that killed two other climbers. His son, Leon Jr. a University of Washington athlete was killed in a fall on Mt. Rainier in August of 1941.
Brigham was inducted into the Washington State Football Coaches Association Hall of Fame in 1979.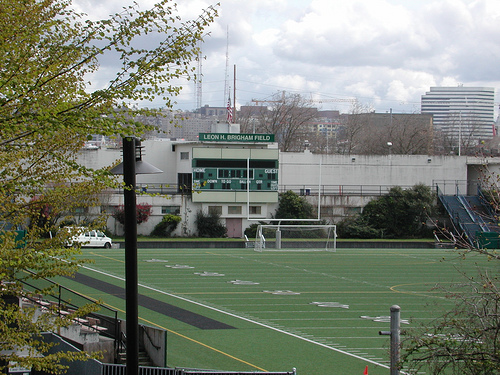 Leon H. Brigham Field